Whether you have a significant other or not, February brings Valentine's Day.  I don't know if you like to celebrate the day, or think it's just another reason for card companies to sell cards (I typically feel the latter).  My husband and I have rarely celebrated the day in ways of exchanging gifts, etc.  I know a lot of people who do and find it odd that we don't.  But, honestly…why do we have to exchange another gift?  That just causes more unnecessary money to be spent.  We do enjoy going out to dinner, though.  So, we'll usually go out to dinner, but that's pretty much the extent of it.  We enjoy the time spent together, and that's what's important to us on Valentine's Day.
I never used to decorate for Valentine's Day.  But, I have been making more of an effort the past couple of years.  Mainly, because I felt the need to celebrate love.  Not just the love I feel for my husband, but all love.  It seems after the holidays, January comes with its harsh cold and snow and gray skies.  February is a good way to remove the "winter" decorations and bring out something that brings some color and positivity.  Love is positive!
Maybe you love the winter and the snow.  I don't hate it.  But, more and more I'm getting weary of it.  We have crazy winters where we live.  Western New York.  It can go from -25 degrees to 50 degrees in 24 hours.  I'm not joking.  I'm someone who after a certain amount of time of never seeing the sun grow weary and need something to brighten the space I'm in.  February is my pre-spring to help bring myself back to life!
The image at the top of this post is my sad attempt to "create" with lights and hearts.  The picture, actually, makes it look better than it does in reality.  But, I've kept it nonetheless.  Really, because I just don't feel like trying to fix it.  I mean, seriously.  I got these hearts on a string from Crate and Barrel a couple of years ago.  I think they're adorable.  I, usually, hang them on my mantel.  But, it took me a bit of painstaking time to de-tangle the string and the paper hearts.  It was a calamity.  Trust me.  And for you organized people out there, I really did think I put them away organized!
So, my house has splashes of pinks, reds and whites and it feels better with some positive coloring.  It, certainly, helps my mood.  Which, I'm sure everyone around me can be thankful for.
Going back to Valentine's Day, as I said, we usually go out to dinner.  Because of this, I  like to look like I've made an effort for the day.  I mean, I'm not a slob, but we've been together for 17 years and have certainly seen one another at our worst.  I'd rather look pleasant for my husband on a night out.
This year, I'm happy to be able to wear some make-up from Young Living.  Their make-up line is called Savvy Minerals by Young Living™ .  I'm happy to wear their make-up, because it's a big part of my journey to a healthier lifestyle.  I wear make-up everyday.  I'd rather feel good about what I'm putting on my skin than worry if it's going to irritate my skin or make me sick.  I have sensitive skin, so it's easily irritated.
Have you read the ingredients in traditional make-up products?  They may include ingredients like parabens that are known to be cancer-causing.  Savvy Minerals by Young Living™ never contain parabens and are never tested on animals.  That's a win in my book! They're also vegan-friendly and sensitive skin friendly.  Another win!
All of the Savvy Minerals line are made without any synthetics or fillers.  The lip products shown, here, have natural ingredients and are infused with an essential oil, like peppermint or tangerine.  They feel good when on, and come in beautiful colors.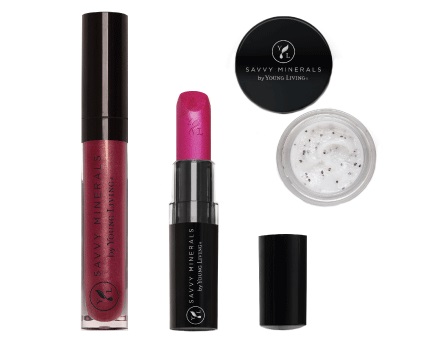 The lip scrub (on the right in the above picture) is a poppy seed scrub.  And, oh my goodness…look at what it can do!
Cleanses
Moisturizes
Buffs away dry or dead skin
Leaves lips smooth and soft
Prepares lips for lipstick or lip gloss application
KEY INGREDIENTS
Citrus Fresh essential oil blend
Poppy seeds
Sugar
Cocoa butter
Mango butter
Avocado butter
Shea butter
Four different butters!  Luxurious! To check out the full make-up line and other Savvy products, you can view the full catalog here!
I'm in love with this line.  One of the reasons that enticed me about Young Living, to begin with, is that they had this incredible make-up and facial product line.  I love that Young Living is much more than oils.  They incorporate oils in all they create.  Naturally.  It's a beautiful thing.
To join me in using products that are natural and good for you, click this.
With love,
Lynn